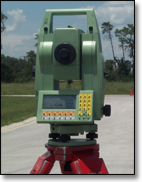 Born in 1960 in Orlando, Florida, Joe began his survey career in 1980. He continued to work for local surveying and engineering firms and in 1984 received his Surveying Technology degree from Valencia Community College.
Joe successfully completed the State of Florida Board exam and received his license to practice Professional Land Surveying in 1993. He was promoted to Director of Surveying Services and gained valuable experience in all types of surveying and mapping for land development.
Active throughout the years in the survey community. Joe was elected as President of the Central Florida Chapter of the Florida Surveying and Mapping Society in 1997, which he has been a member since 1984.
Joe enjoys all aspects of the survey profession whether it is working in the field or consulting with a client.
Education:
• Associate in Arts, Valencia Community College, Orlando, Florida
• Associate in Science, Land Surveying Technology, Valencia Community College, Orlando, Florida
Professional License:
• Florida Surveyor and Mapper, Registration # 5205
Professional Affiliations:
• National Society of Professional Surveyors (NSPS)
• American Congress of Surveying & Mapping (ACSM)
• Florida Surveying and Mapping Society (FSMS)
• Past President of Central Florida Chapter of FSMS